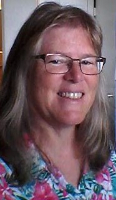 Rev. Leigh McCaffrey was born in Burlington, Vermont and was confirmed and ordained in the First Congregational Church of Burlington. Leigh attended St. Michael's College, graduating magna cum laude in Elementary Education. After working as a Christian Educator in Connecticut, she received a call to ministry that led her to Andover Newton Theological School in Boston, Massachusetts, where she graduated cum laude with a specialization in Liberation Theology, and was a student intern and gospel choir member at United Baptist Church of Jamaica Plain. She was the 1988 winner of the Koinonia Preaching Prize.
Pastor Leigh has served churches in New Hampshire, Connecticut, Kansas, Massachusetts, Rhode Island and Florida, both as an interim and a settled pastor. She has also been adjunct faculty at Yale Divinity School in church polity and practical theology. Leigh has served on many Church and Ministry and new church development committees. She worked as a staff organizer and primary leader with community organizing efforts in Connecticut and Miami.
Leigh is currently employed by VITAS Healthcare as a Volunteer Services Coordinator; connecting members of the community to families of hospice patients.
Leigh and her partner Susan Monaco live in Deltona. They enjoy time with their families; Hannah and Brad Provost and Sara McCaffrey as well as the grandchildren; Aiyanna, Bryan and Athena and Sue's many brothers and sisters.